Do you Own or Manage a Farm, Game Ranch or Nature Reserve?
Essential to your success is GOOD QUALITY, SUITABLE FENCING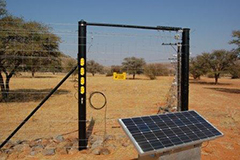 The wildlife industry has grown and diversified enormously in recent times. While Nature Conservation bodies and National Parks still make up a substantial portion of the industry in Southern, Central and East Africa, private landowners now also contribute enormously to conservation and wildlife management. The worldwide growth in eco-tourism together with the sale of high value game species has turned game reserves and parks into big business. In southern Africa, many game farmers have shifted their focus to breeding rare game in intensive and semi-intensive set-ups, while the number of "lifestyle" or "weekend" farmers is also on the increase.
In all these cases, the farming or wildlife venture can only be as good as the quality and suitability of its FENCES.
Every farm, ranch and reserve therefore needs a company with the expertise to supply the best quality fencing suited to its individual wildlife needs.
Welcome to TNH Fencing.
With our more than 15 years experience in the wildlife and agricultural fencing business, TNH Fencing is able to professionally install exactly the right fencing option for YOUR game farm, ranch or reserve.
TNH Fencing supplies and installs all types of game fencing. Fencing options include both Standard Game & Wildlife Fences, and Electric Fences. Each fence is individually designed to suit the terrain, soil conditions and wildlife of the area. All fencing materials are also available from TNH.
TNH also specializes in designing and constructing holding bomas and breeding pens that are the best suited to each individual situation. We also have extensive experience in animal and wildlife management; and products and animal management systems available.
TNH has the knowledge to advise landowners and staff in the correct maintenance of their fences. We supply herbicides, and also spray fences to keep them clear of vegetation, protect them from fire and working at optimum efficiency.
Solar Systems, and Strip Grazing equipment are also included in the range of products and services offered by TNH Fencing.
Although based in South Africa, TNH Fencing has extensive experience in the supply and installation of fences and fencing materials throughout Africa and the Middle East. Contact TNH to assist you with all aspects of your fencing project, anywhere in the world.